Team with Two Crackers !
Cat Woman and Wonder Woman both took time off from fight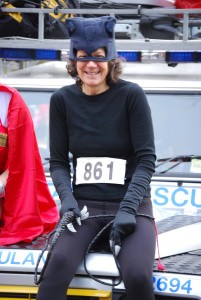 ing the worst international villains last weekend and instead went for an eight  mile sprint over the Staffordshire Roaches.   Cat Woman, alias team member Hazel Winder, and Wonder Woman, alias team member Kerry Clarke, both represented the team in the Staffordshire Moorlands Athletics Club, "Christmas Cracker" fell race.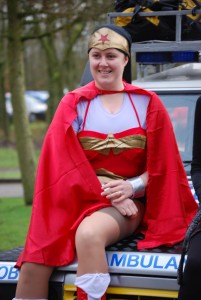 Four hundred competitors entered the race and all in fancy dress ranging from Elvis to a Christmas Tree and a Morris Dance Troop to 101 Dalmations.  
Twenty members of Buxton Mountain Rescue Team helped with marshalling the higher parts of the run which starts and finishes at Tittersworth Reservoir.  The team also provides first aid cover but fortunately this year the weather was fine if cold and there were no reported accidents.   In return the athletic club help the team with a generous donation.
The winners complete the course in under fifty minutes but our dynamic duo took just a little longer.  As they say, "It's the taking part that matters."  Each competitor received a "Christmas Cracker Sock" as a memento of the occasion.