Team to cut ties with St John
At a landmark meeting of the charity trustees on Mon

day 14th September it was decided that the team should finally resign as a division of St John Ambulance.
The team became a division of St John in 1976 in an effort to improve the standard of the first aid training for team members.  At that time there were no first aid standards set by any authority within mountain rescue. By joining St John, Buxton MRT became the only rescue team in the country to demand that all its members held a recognised certificate of competence.   A major influence to join St John was then First Aid Officer, Gordon Booth, who had connections with St John in his professional role as First Aider at one of the local major quarries. 
The relationship between the team and St John had strong bonds and apart from a structured first aid training programme the team benefited from reduced insurance rates for its equipment, vehicles and members.   Even though the team refused to wear a St John uniform or conform to many of the accepted roles of a division, the team was invited to several royal inspections with members meeting both the Queen and Princess Anne.  Being a St John division made many friends for the rescue team and forged many links benefiting the team.  The current team leader, Neil Carruthers, first came to the rescue team through links with St John.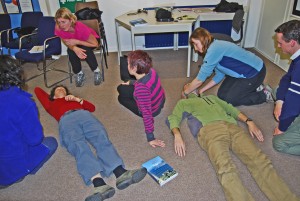 The introduction of a national casualty care syllabus and examination by Mountain Rescue (England & Wales) in the 1990s changed the direction of all first aid training.  It provided a new course specifically designed for the care of people injured in the outdoors and the mountain environment.  We quickly adopted the MR (E&W) course as the new standard for operational members using the basic St John certificate simply as an entry level qualification.  However the team continued to use specialist St John courses such as Administration of Medical Gasses and Basic Life Support to ensure regular re-qualification of its members between the three year MR (E&W) exam.
In recent years, links with the national First Aid organisation became strained as the process of administration got more overwhelming.   On Monday evening the team Trustees reluctantly considered that bureaucracy and cost were outweighing the benefits received and that the time had come for the team to go its separate way.  After 33 years of mutual support it was a major decision but one that had been on an open agenda for several months.  All team members had an opportunity to comment and the Trustees were confident that they had the full backing of the operational team.
The team will now write its own syllabus for basic training whilst continuing with the MR (E&W) course for its operational members.