Team Pupdate and congratulations to Isla
Trainee Search Dog Isla, with her handler Mark Williams, made a significant step forward last week in their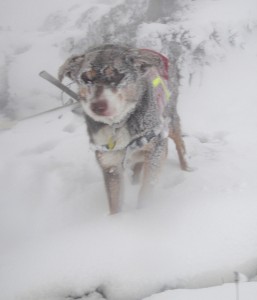 ambition to pass out as a fully accredited Mountain Rescue Search Dog unit.  Isla passed her stage One Indication Test which is a key accomplishment.
The test takes place in woodland under the scrutiny of  S.A.R.D.A examiners and the dog has to find a number bodies and then return to their handler unprompted.  On each return the dog must give a strong indication of the find.  The dog must then lead the handler to the body.
It is hard to state how much of a major hurdle this has been, as Isla has been very distracted in woodland!
Mark Williams said, "I've had tremendous support off team members over the last 14 months, and I send a massive thank you to everyone who has been out dogging.  I do hope that you'll continue to come out.
If anyone wants to help Mark and other Peak search dogs with their training please contact the team on enquiries@buxtonmountainrescue.org.uk  Be warned, it can mean lying out in the cold and wet for an hour or two before a wet nose locates you!
Photo credit:  bmrt  –  Isla training in Scotland.