Team member goes over the wall
After over ten years as an operational member of Buxton Mountain Rescue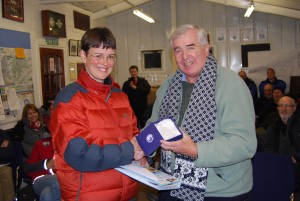 Team, Fiona Thompson said, "Goodbye" at the team's last training night. Fiona's husband has a new job in Newcastle and the couple, with their two young children, are moving north to Hadrian's Wall. 
Whilst sad to be leaving the move brings new challenges, not least moving house in a snowstorm. Fiona has already made contact with Northumbria National Park Mountain Rescue Team and hopes to be able to join its members on an exercise before the new year. However, Northumbria currently lies under even deeper snow than here in the Peak so it may have to thaw a little before she can find her way around.
Good luck to Fiona and family – and thanks for your help and friendship (not to mention the drinks last Thursday).
Team Chairman, Ian Hurst, presents Fiona with a small gift and an album of memories of Buxton MRT.