Team honoured by Rotarians
Buxton Rotary Club recently awarded a Paul Harris Certificate to Buxton Mountain Rescue Team in recognition of their outstanding contribution to the community. Paul Harris was the founder of Rotary, and the certificate in his name is the organisation's most prestigious award.
Since 1964, when we were established, we've given 47 years of service, a 24 hours, 365 days a year cover to both the local and visiting communities. Maintained entirely by volunteers, and made possible by the invaluable donations, and fund-raising support of many creative, enterprising groups and individuals who raise funds for us year in, year out. This is an award we should all be proud to share.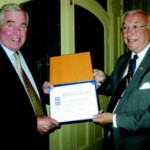 Buxton Mountain Rescue Team was represented at the award event by its President, Ian Hurst (above left), and its first Leader, Howard Hodgkinson. Thank you, Rotary.