College students support BMRT
Students at Aldercar Community Language College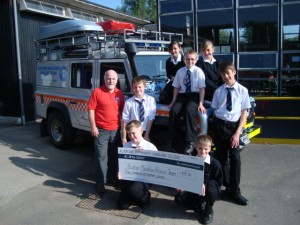 at Langley Mill have raised an amazing £518 for the rescue team. 
Deputy Team Leader, Malc Needham, is a Learning Manager and post-16 tutor in Construction at the college.   As part of the new National Curriculum students have to be aware of new initiatives one of which is "Community Cohesion", or community spirit as most would know it.   The students, knowing that Malc was a member of the totally voluntary rescue team, quickly identified the Buxton Team as a worthy community cause and decided to help as much as they could.
The students organised an event which raised a considerable sum of money and met all the requirements of the Ofsted Inspectors.  Malc proudly took the team's primary response vehicle to a presentation at the college where students and staffed handed over the cheque. 
Malc said, "All the students took a great deal of interest in the vehicle and particularly in the equipment it carries on board including the stretcher and heavy kit bags.  It was a good opportunity to raise awareness of mountain rescue and raise some funds at the same time." 
Buxton Mountain Rescue Teams  extends a huge thank you to the students and all those who made the donation possible.  £500 is a significant contribution to the team's annual running costs of nearly £30,000.