Souper donation from the Lincolnshire LAGs
Lincolnshire Ladies Adventure Group is a small band of ladies who enjoy walking together and are out and about every Friday whatever the weather.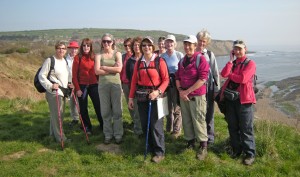 Usually local walks between 5 and 10 miles but sometimes more adventureous weekend expeditions into Derbyshire or Yorkshire  making use of Youth Hostels. 
In mid November the group decided to help Buxton Mountain Rescue Team and raise some money.
Headed by Rachael Penn-Smith of Grimsby, the group held a Soup Kitchen serving soup and a roll to family and friends.  Gallons of homemade soup were cooked up at Rachael's home and the result was an amazing £115 profit.  The generous donation is now helping the rescue team to provide clothing and personal equipment for its operational members.
The team sends a huge "Thank You" to the Lincolnshire Ladies for their superb effort.   Yet another fantastic example of the support which the rescue team receives from the ( not so local ) community.  Without this sort of help, mountain rescue teams cannot continue their work.  Thank You, ladies.
Lincolshire Ladies Adventure Group  (Rachael far left).