Snow joke
Being a member of a mountain rescue team is supposed to be about mountaineers helping other mountaineers who get into trouble in the hills.  But in the last couple of weeks mountain rescue has taken the guise of ambulance service and a vehicle recovery organisation.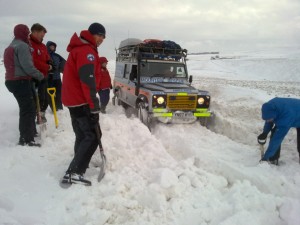 All the Peak District mountain rescue teams have been busy in the current weather situation with some standing by at their bases on a 24 hour rota for emergency calls from the ambulance service.   It's a role which team members are happy to fulfill to support the full-time professionals in their potentially life-saving work.
However, there is still more bad weather ahead and the teams will soon have to start counting the costs of this extended community service. The costs aren't just material items such as fuel and equipment, but the human costs also have to be considered.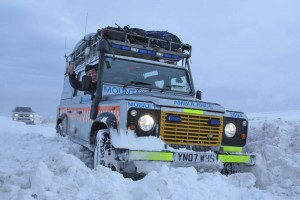 All team members of all UK civilian mountain rescue teams are volunteers and whilst the individuals would like to donate as much time as possible to the cause there has to be a limit.  Family and work commitments cannot be ignored for too long without repercussions and there may come a time when team call-outs have to be prioritised. 
Working in the snow and bad weather has its dangers and rescue team members are not imune.  The team will always respond to the assistance of anyone when their life or well being is threatened, but some of the recent "stranded motorists" incidents are questionable. Fortunately, nobody has been hurt so far but one team member has lost personal property valued at over £100 directly as a result of an individual's foolishness.
Photo: The team's own vehicle became stranded in deep snow after assiting a motorist, highlighting the dangers of ignoring 'Road closed' signs.  A lot of digging, swearing and no little assistance from Glossop 4×4 club finally got the team through.