Runners go to Fell 'n' Back for the team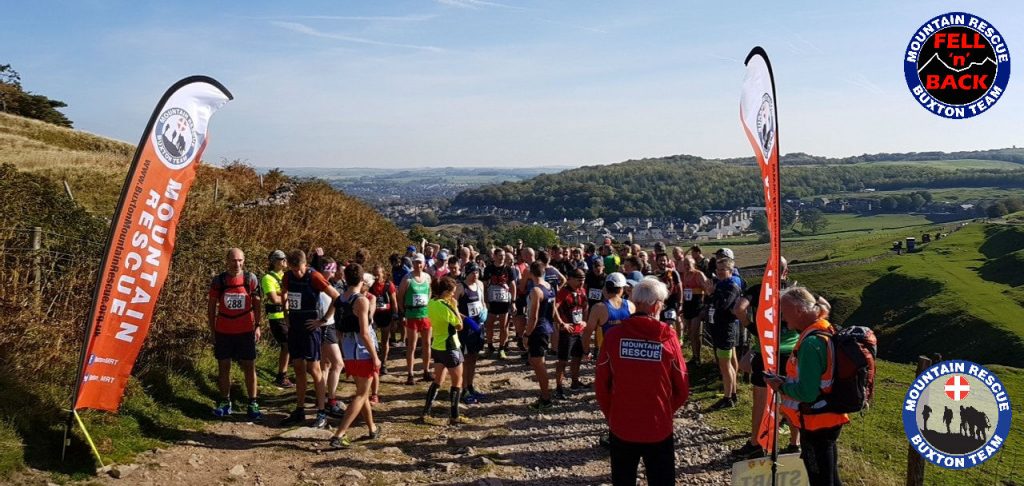 So there it is,  10 months of planning, meetings, phone conversations and route revisions,  all put behind us in one beautiful day in the Peak District.
Our inaugural Fell 'n' Back 20km race was held on the hills above Buxton on Saturday 29th September and we were delighted to welcome 102 runners and 1 walker to take part.
The winner, Mark Burton completed the route in 01:24:47 and was closely followed by the leading lady, Fran Bromley in 1:42:59.
Everyone seemed to have a great time before, during and after the race and were well looked after by the team on the hill and by the Friends of Buxton Mountain Rescue back in the Hall.
We were very lucky to have some friends from Goyt Valley Striders running the registration and race results for us, and a few chaps from the Rotary Club of Buxton manning a road crossing on top of the Cat & Fiddle.  Thanks for your help everyone.
Fortunately, the race was well supported by local businesses with prizes being provided by Buxton Brewery, Bollington Brewing Co, Peak Ales, Amber Valley Wines, Grangers and Varta.
A great success for the team and another regular event booked into the calendar.  Roll on Saturday 28th September 2019.