Rescued dog, rescued by, rescue dog handler
Freddie, a 2 year old dalmatian, has been rescued twice in a mo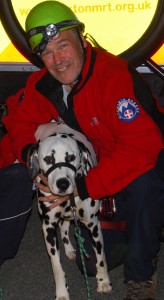 nth. 
Freddie is the pet of a family in Cressbrook who have only had him for four weeks since finding him at Mackworth Dog Rescue Centre, Derby.  A friendly and lively animal he is the love and joy of James (13) and sister Acacia (11) who live in a tiny village close to the Monsal Trail.   James was walking Freddie on Thursday evening on the path above Water-cum-Jolly when the dog decided to get a little too close to the edge and, mistaking bracken for solid ground, took a 6 metre tumble landing on a rocky ledge.  James quickly realised he couldn't get Freddie back up the hillside and went home to get help.
The police alerted the R.S.P.C.A. but it was a direct phone call the the team's base at Dove Holes which sparked the rescue.  After liaising with the police and the R.S.P.C.A. fifteen members "reluctantly" left a classroom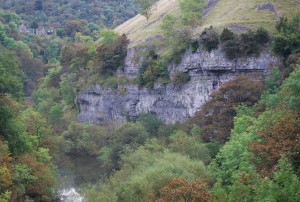 lecture on crag safety to respond to the request for help.
On arrival James was kitted up with helmet and lamp before he led the rescue party to the incident scene.  It was obvious that a team member would have to be lowered by rope down the cragside and who better to rescue a dog than a rescue dog handler.   Nick Smith usually works with Search Dog Zak but being the only member with dog biscuits in his pocket he knew he was about to be acquainted with Freddie.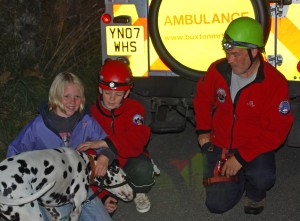 A technical rope system was quickly set up and Nick soon disappeared from view equipped with a makeshift harness.  We're not sure if Freddie was pleased to see Nick or just pleased that he had biscuits with him but a good relationship was immediately established and Freddie was soon on his way to ground level.  Waiting were James and Acacia pleased to see Freddie bounding about as if nothing had happened.
Story by team news-hound!
Photos: Freddie & Nick 'the biscuits' Smith.     Water-cum-Jolly, a serious crag even in daylight.     James, Acacia & Freddie reunited.
Please Note: The rescue base is not normally staffed and it was just by chance that someone was there to answer the phone.  To call out mountain rescue, dial 999 and inform the police.