Reprint in time for Christmas
Mountain Rescue History & Development in the Peak District  written by Buxton team members Ian Hurst and Roger Bennett, is to be reprinted just in time for the Christmas present rush.
The book, first published in December 2007, does just what it says in the title and describes the origins of the modern day service from its very humble beginnings.  It starts with the explosion of British outdoor pursuits in the 1850s when the term "mountain rescue" was something you might only read in the Times relating to exploits in the Alps and beyond.   The book recalls some very early Peak District searches before rescue teams were established, at a time when the local bobby and shepherds had to do their best with pre-war first aid kits.  It moves on through the Second World War charting the setting up of an RAF Mountain Rescue Team in Buxton and then later describes how the formation of the Peak District National Park had a major influence on the development and organisation of rescue in the area.   
A triple run of events in the 1960s which claimed seven young casualties finally set the building blocks of the modern service but there was still a lot to learn.
The Amazon five star rating claims the book to be "Comprehensive, engaging and entertaining".  It's not a handbook for team members but a story that all hill lovers should read.
The independent reader review says;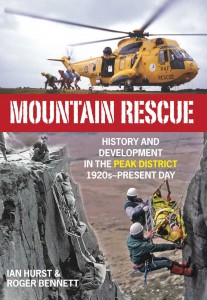 Comprehensive, engaging and entertaining!

, 25 Aug 2008

For those of us who spend our weekends on the moors of the Peak and our lunch breaks gratuitously trawling MRT websites this is essential reading.
Carefully integrating the specific history of MR in the area with broader historical considerations such as the access struggle, improvements in communication technologies and the development of MR in Britain generally, this book provides a fascinating and intelligent insight.
Not afraid to point to necessary criticisms of what has happened in the past and illustrated throughout with a wealth of archive photos,(some of which are quite amusing!) a better charting of MR from enthusiastic and often under equipped amateurism to the neo-professionalism of today is hard to imagine.
Finally whilst the author's length and depth of involvement in local MRTs clearly provides the insider authority, their ability to write to the highest standards, makes this book a winner – despite their curious caveat in the introduction that they are "not professional authors"!
Buy this book, please, it's a cracking read and proceeds go to support MRTs in the Peak
 See the home page for a link direct to Amazon.
Signed and dedicated copies available from treasurer@buxtonmrt.org.uk