Ramblers come to aid
P.A.L.L.G.O. Rambling Club has come to the aid of Buxton Mountain Rescue Team with a £500 donation. Prelongs Active Life for Local Government Officers (PALLGO) is a rambling club from the Crewe area which has worked hard all year to support the rescue team.
The club's generous donation will be used to purchase a computer and printer for use in the team's new Incident Control Vehicle. This is currently being fitted out at our Dove Holes base. The computer will enable printing of specific search maps and will record details of all communications and actions.
The rambling club was in the Peak District last Sunday for a walk around the Hathersage area and met with team members to present the cheque.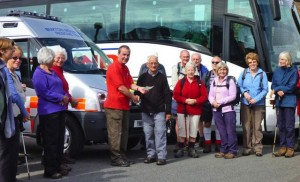 Yet another fantastic demonstration of the support offered to mountain rescue without which the team simply could not continue operating. Grateful thanks go to all the club's members for their efforts.