Puppy love
There are many dog admirers and owners in the team, but it takes a particular keeness and commitment to become a SARDA dog handler. Buxton MRT are already lucky to have two operational dog teams, and are pleased that there may be a third lined up for training.
Team member, Andy Keen aspires to be a handler. He's witnessed first-hand how satisfying it is for other handlers to help save lives, and is fully aware of the long process and expense that this entails: typically, up to 3 years to get a dog to junior operational level, with a further 18 months to become fully graded. Andy is rarely seen without his devoted gun-dog trained Springer, who, at an energetic 7 years old is too long in the tooth to be trained up for search and rescue duties. So Andy began his search for a new dog, a willing and biddable puppy, motivated by all the handlers he's met in the past two years through regular 'dogsbody' activity in the Peak District, and at national assessment events in the Lake District.
Meet Jake, the adorable bundle he's found.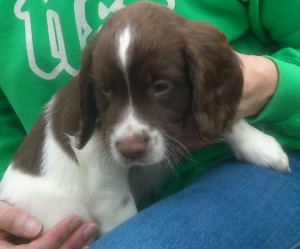 Andy and Jake will start their training as a dog unit when Jake is 10 weeks. This will involve basic socialization with humans, other dogs, and stock. If you'd like to follow their training you can do so via a dedicated twitter feed with lots of photos. More information on SARDA including how to volunteer as a body to help train the dogs, or to make a donation, can be found on their website.