Megan takes the biscuit!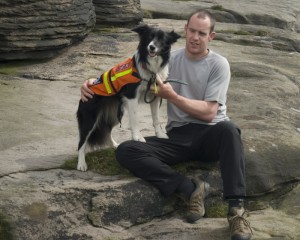 Three days of appalling weather wasn't going to stop Megan and search dog handler, Dave Mason, achieving their hard earned ambition of passing the stringent annual assessment course set by the  Search & Rescue Dog Association (SARDA) to qualify as "Full Search Dog". 
The assessment, which took place over three days on the steep fells of Derwentwater in the Lake District, was scutinised and assessed by some of the most experienced dog handlers in the country. Gaining the nod of satisfaction from this group is the highest accolade.
Dave and his four year old border collie, Megan, have worked towards this achievement for three years and have spent hundred of hours training together.  Dave has been a team member for seven years and his ambition to become a search dog handler started when Megan was just 14 weeks old.  The training uses the dog's natural instincts to drive sheep but this has to be adapted to locate people and eventually totally ignore sheep and other livestock. 
At two and half years old, Megan took her first assessment course achieving the title "Search Dog Initial Grade".  This put her on the call-out list and she became one of just 60 dogs qualified to assist rescue teams and the police on a search mission.   Since then Dave and Megan have been called out over 60 times and she proudly made her first find in March 2008 locating a party of six shivering walkers on Kinder Scout in the Peak District. Watch a video about Megan and Dave training, created by the BBC.
Dave and Megan are now part of the seven strong Peak District SARDA group and one of three dogs attached to Buxton Mountain Resce Team. 
Dave was quick to acknowledge all the help he has had from other dog handlers and team members and especially the support of his wife Gemma through the long and lonely training days.
Hearty congratulations go to the pair starting on what we hope is a long active and successful partnership.
Photo:  Dave Mason and Full Search Dog Megan.