Marks and Spencer do it again!
After a summer of great fundraising events, the staff of Buxton's Marks and Spencer branch have made another fantastic donation to Buxton Mountain Rescue Team.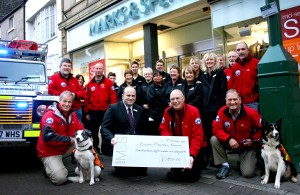 It was an early call for team members to the cheque presentation in Spring Gardens last Saturday.  Before the store opened for business M & S staff and team members gathered whilst Owen Dyde, Manager of the Buxton branch, presented team member Joe Rees with a cheque for a whopping £1,850. 
This is a really big boost to the rescue team which depends totally on charitable contributions.  The staff have worked hard all summer as part of Marks and Spencer's national "100 Days of Fundraising"  ; an initiative to encourage all branches to raise money for local charities.   Staff organised all sorts of mini-events, including a sponsored bag-pack,  but the highlight was a sponsored bike ride for the full 250 mile length of the Pennine Way.  However, the wet summer was nev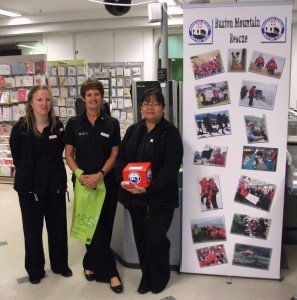 er a problem as the bike didn't actually move; it was an exercise bike firmly rooted to the floor!!!
The team sends a huge "Thank You" to all the staff who helped to raise the money and, of course, a huge "Thank You" to all members of the public who supported the event.  The money will be split between two major financial demands facing the team; a replacement vehicle, and providing protective clothing for new members. 
This is the second major donation to the team from the efforts of M & S staff.  In December 2009 they donated £500 to the team as a result of a penny bazaar.
Another great demonstration of the fantastic support the local community gives the rescue team.  Thank you all.