Man falls 14,000 feet at 120 miles per hour!
This Saturday 1st August
What a way to celebrate the big 50!   John Molyneux, from Sale,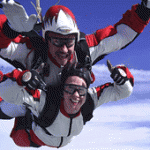 is all set to jump out of an aircraft flying at 14,000 feet to raise money for Buxton Mountain Rescue Team as part of his big birthday celebrations.  John, who has never jumped before, will free fall 9,000 feet at speeds up to 120 miles per hour before, (he hopes), his tandem Sky Dive Instructor pulls the cord to gently lower them both another 5,000 feet back to earth.
The big jump will take place on Saturday 1st August and will be carefully controlled by the Black Knights Parachute Centre at Cockerham in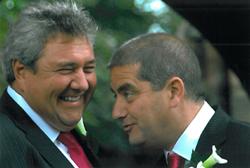 Lancaster.   John has been planning the jump for some time but the sudden death of his closest friend, Michael Screeton, prompted him to attempt to raise £5,000 for the rescue team in his memory.  John said, " I miss Mike dearly, but as a keen Man City fan he would have hoped I landed on Alex Ferguson!"  Mr Ferguson was unavailable for comment today but a spokesman for the rescue team stated that BMRT sincerely appreciates John's extreme and couragous bid to raise money.
The free fall p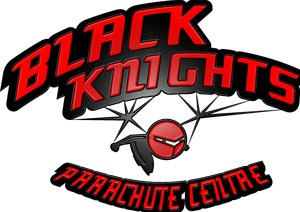 art of the jump will last just half a minute but having already raised over £1,000 that equates to £33.30p per second.  Probably a team record for speed fundraising!
Best of luck John to whom we wish a safe and happy landing.   Watch this space for an update and photos of the jump. To encourage John go to: http://www.justgiving.com/johnmolyneux1
News in: John has now sucessfully completed his dive – see the video evidence.  Well done, congratulations, and happy birthday.
Photos:  Top – tandem skydivers from the Black Knights.             Lower – the late Michael Screeton (left) as Best Man at John's wedding.