Leg Breaker Raises £750
It is not uncommon for a mountain rescue team to deal with a b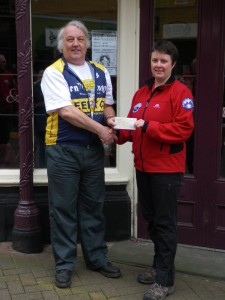 roken leg but this leg breaker is something totally different.   The Leg Breaker is a cycle challenge organised each year by Leek Cyclist's Club for really serious riders.   The course is 130 kilometres long with over 3000 metres of ascent but still attracts 300 plus competitors!  
The team had for the past two years helped with staffing drink stations during the race and has provided first aid cover for some of the more remote parts of the course.  In 2008 Buxton Mountain Rescue Team was chosen to be one of the three charities to benefit from the race proceeds and was presented with a cheque for £750 at an informal presentation last week. 
Team First Aid Officer, Kerry Clarke, accepted the donation which will be used to part fund the purchase of new pulse oximeters costing over £1,400.  The team extends its sincere thanks to Leek Cyclist's Club for its generous gift which will help monitor the condition of seriously injured casualties – may be even those with a broken leg!
Photo:  Kerry Clarke receiving a fantastic donation from Leek Cyclist's Club.