Just like buses!
After a lengthy spell of several weeks without a significant call-out the team was asked to respond twice in twenty-four hours.  It was mid-November when the team last had to walk more than a few hundred yards to a casualty so some of the team were beginning to get twitchy.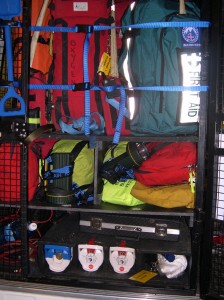 However after two call-outs over a very wet weekend, those members were wishing the incident drought had continued.  The team base is now strewn with muddy wet equipment waiting for replenishment and inspection before it can go back into service. 
However, thanks to the generosity of all our loyal supporters, the team has been able to purchase spare equipment which is kept in store spare ready for immediate use. Within 30 minutes of each call the team vehicles were back fully stocked and ready for action.  After all, they say things come in threes ! 
Thanks to everyone who has helped or donated money to keep Buxton team ready for call 24 hours every day.
Photo:  Equipment cage of Mobile Two refilled and ready for call.