"If only I could thank them all!"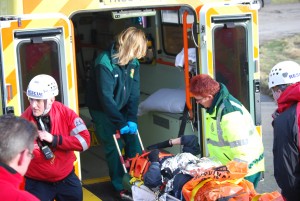 On Saturday 21st February Buxton and Edale teams got wind of a call-out on the old Mam Tor road near Odin Mine whereby a lady had been lifted off the ground and blown over by a strong gust (no she wasn't named Gail).  
The lady had sustained serious head injuries and gave team first aiders and an East Midlands Ambulance crew real cause for concern.  The extremely strong wind made treatment at site difficult and she was moved as quickly as possible but with great care to a waiting ambulance.   She was then taken to Stepping Hill hospital where she later received eight stitches to the head wound.  That was followed by two weeks off work and a number of visits to the maxillofacial unit at Wythenshawe Hospital and more x-rays.   She is now greatly recovered and is waiting for a very still day before she ventures out walking again. 
The lady has since written her thanks to both rescue teams individually.  In the letter she says, "I have been moved by the generous kindness shown by everyone from the gentle stranger who sat with me until you arrived, to yourselves, the rapid response paramedic, the A&E staff at Stepping Hill and another stranger who gave us money for the tea machine in the hospital.  If only I could thank them all."
The lady, from Kerridge near Macclesfield also enclosed a donation which will help the team with its overdraught.
Photo:  Paramedics and rescue team members load the casualty into the ambulance.