Flying visit from Angelsey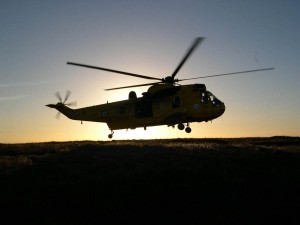 At 7.10pm on Wednesday 15th October the team received an urgent call for assistance from East Midlands Ambulance Service which had dispatched a Paramedic to Castle Naze above Combs near Chapel en le Frith following a report of rock climber having fallen six metres to the ground.
The casualty was thought to have severe neck and back injuries so speed was of the essence.  Castle Naze is only a couple of miles from the team's base at Dove Holes so the first members were quickly on scene and liaising with the paramedic and ambulance crew.  With such severe injuries suspected it was decided that the casualty should only be moved with the greatest of care and the prospect of a stretcher carry and then a long road journey prompted the call for helicopter assistance.  Night had fallen and the crags of Castle Naze are a dark and lonely place so the only aircraft suitable for the job was an RAF Sea King.
The "local" aircraft from RAF Leconfield in Yorkshire was unavailable so the nearest reserve would have to come from RAF Valley on Anglesey, about one hour flying time away.  Whilst the helicopter crew was being scrambled, team members secured the casualty on a back splint and then placed him on a stretcher for the short carry to the nearest landing spot.  After about 90 minutes from the original call-out the casualty was being loaded in total darkness in to the helicopter ready for a ten minute flight to Chesterfield Royal Hospital.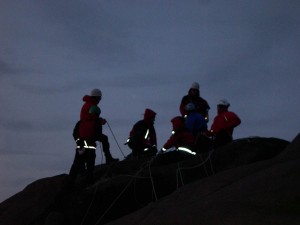 The climber, a twenty year old male from Manchester, had been leading a climb named Scoop Face Direct when he fell and all his protection came out.  With such a severe initial diagnosis the team feared his injuries could threaten his quality of life but it was later revealed that the back injury was not as bad as first thought.  Luckily he had been wearing a helmet otherwise the result might have been very different.
The team always treat reports of head or back injuries with great seriousness and always treat for the worst case scenario.  The incident involved the Derbyshire Police, East Midlands Ambulance Service Control, one EMAS ambulance with crew, one Paramedic Response Car, the RAF Search & Rescue Co-ordination Centre at Kinloss, an RAF helicopter and  four crew from RAF Valley on Anglesey, a Land Rover and 6 members of Kinder Mountain Rescue Team and two vehicles and fifteen members of Buxton Mountain Rescue Team.   No charge is ever made for the service.
This incident had a fortunate outcome but the circumstances justified the response, the next one may not be so lucky.