Family Fun Day, Macclesfield.
The sun shone at Moss Rose on Sunday  (well, in between the showers!)  the Macclesfield's Family Fun Day held at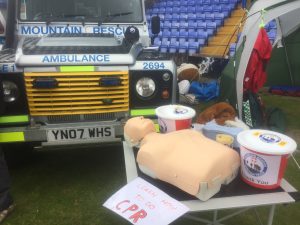 the football stadium.   The weather forecast had not dampened spirits as crowds of families turned up making the day a great success.  The event also doubled as a dog show with many family mongrels all looking their best.
A few members of Buxton Mountain Rescue Team went along to support the day and Bernard, the team's own mascot, was hoping for a prize but no such luck.
What was more successful were the demonstrations and training offered by team members in C.P.R. (or the kiss of life as most people know it.).  The team targeted children to learn the skills which one day may safe someones life.
Throughout the day team members chatted with the public explaining what mountain rescue is and what it does thereby raising awareness of the service which few people know much about unless they have been involved in some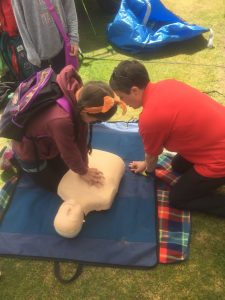 way.

Photo credit:  BMRT.  Vital lifesaving skills being being passed on to an enthusiastic and willing student.