Dog team commended
In March this year, team member Dave Mason, also handler of Search Dog, Megan, were called together with the Derby Mountain Rescue Team to search woodland in the Somercotes area. A 25 year old Thorntons Chocolate worker had been reported missing on her way home from the factory.
The body of Jai Ashton was located by Megan, hidden deep in woodland brush. A murder investigation by police followed, resulting in the conviction of a local man who was sentenced to serve a minimum of 28 years imprisonment.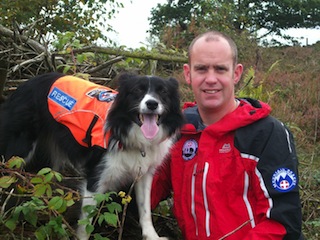 Derbyshire Constabulary invited the volunteer Mountain Rescue Team, together with Dave and Megan to a "Celebrating Achievement Awards" ceremony at its Police Headquarters, in Ripley, to each receive the Chief Constables Commendation.
Dave said: "The body of Jai had been hidden so well it is possible that she would not have been found without the use of a dog. This was a challenging search. Megan's find ensured that vital forensic evidence was secured. I am extremely proud of her."
The awards ceremony took place at Derbyshire Constabulary HQ, Butterley Hall, Ripley on Tuesday 6th December 2011. The presentation was made by the Chief Constable Mr Mick Creedon. Dave is a serving Derbyshire Police Officer, currently based at Buxton. In his spare time, he is Deputy Team Leader of Buxton Mountain Rescue Team. Please see post for further details of the call-out, including a link to the BBC report.