Dedication recognised with honorary membership
At its Annual General Meeting on Thursday 12th March, Buxton team Chairman, Ian Hurst, made three presentations to members who have for many years shown particular dedication to the team.  All three members were rewarded with certificates of "Honorary Membership".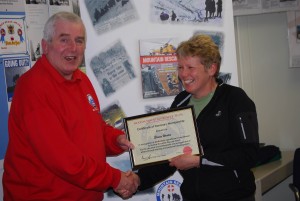 Elaine Weston, who retired from operational membership this year, had also served as First Aid Officer for many years and was credited with having spent 1000,s of hours in preparing and presenting training sessions.  Her certificate citation read, "For devoted and enthusiastic encouragement of others through training and personal development."  Although Elaine no longer holds the responsibility of First Aid Officer, she will continue to be a part of the first aid training team.
Phil Booth, a past Deputy Team Leader but who retired fr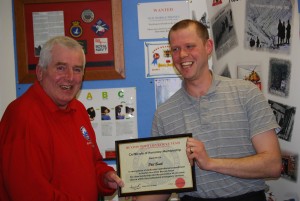 om the team to spend more time with his wife and three children under five years old, also received Honorary Membership.  His certificate read, "For clear and precise leadership and promotion of the mountain rescue service within the other emergency services."  Phil, now an Acting Inspector with Derbyshire Constabulary, is no longer on the operational call-out list but continues to promote the cause of Peak District Mountain Rescue and liaise with police at higher levels.
Alex Muller has been a team member since the days when the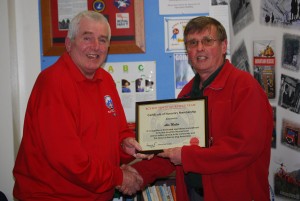 team was called out using pigeons.  He was a Deputy Team Leader for many years and then took on the time consuming role of a search dog handler with the Search & Rescue Dog Association.  Now retired from all operational duties Alex's certificate read, "In recognition of dedicated operational commitment to Buxton Team and selfless service to the community with the Search & Rescue Dog Association."
The three new honorary members join a short but growing list of those who have served the team in some significant capacity with a greater commitment and dedication than normally expected of a team member.  These are the type of people which hold any organisation together and create the goals for others to aspire to.
Photos:  Top to Bottom.  Elaine Weston, Phil Booth & Alex Muller collect their certificates from team Chairman Ian Hurst.