Concert collection nets £120.
A performance by Derby Concert Band at Buxton's Pavilion Gardens on Saturday 21st March raised over £120 for the rescue team's funds.  The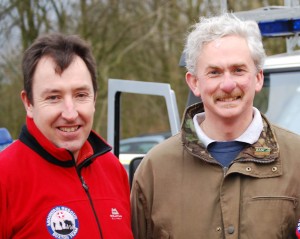 concert, entitled Music With Altitude, was a mixture of stirring music together with a visual presentation and talk by world renowned mountain adventurer, Nigel Vardy.   Nigel, having lost several fingers through frostbite on one of his expeditions, was keen that mountain rescue should benefit from the event and invited the team to make a collection during the concert.  The team will also benefit from a percentage of the ticket sales which is kindly being donated by Derby Concert Band.  Deputy Team Leader, Mark Williams, was on hand to personally thank Nigel and to answer the many questions raised by members of the audience following the concert.
The evening was a great success and the team extends its sincere thanks to Nigel Vardy and all of the Derby Concert Band for helping raise money for the team coffers.
Photo:  Nigel Vardy (right) with Team Deputy Leader, Mark Williams at an event in 2008.