Collection box collection
Buxton Mountain Rescue Team's network of counter-to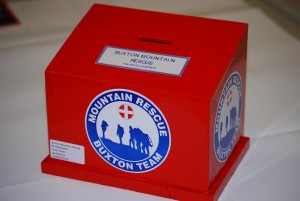 p collection boxes continues to grow and the team now has over ninety sites hosting a little red box.  The income from the collection boxes is varied with some raising just a few pounds a year to others raising hundreds of pounds but the total sum is truly beneficial to the team. 
In 2003 the team recognised that its collection box numbers had dropped to just a couple of dozen and income had dwindled to under £500.  A radical change was needed and a concentrated programme on managing a new collection box network was launched.   Within twelve months all the existing old black boxes had been renovated and replaced with bright new red boxes.  The new boxes were made in woodwork class at cost price by a school in Chesterfield under the watchful eye of handicraft teacher and team member Malcolm Needham.  Around thirty new sites were identified in the first year and income slowly began to increase.   The network expansion continued until in 2008 the team had nearly one hundred boxes around the Peak District and income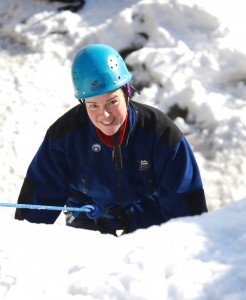 had risen to £3,600, equal to over 10% of the team's total income.
The success of the boxes created a few problems with counting so much copper and team member Fiona Thompson has developed muscles in places where she didn't know she had any by carrying and banking the cash.   Every box is emptied and then refurbished at least twice a year, some almost monthly, so team member Eric Needham is kept busy with his paint pot and sticky labels.  The whole network is now managed by team member Zoe Linguard who would love to hear from anyone with space on a counter top.
The team wishes to thank everyone who hosts a collection box in a shop, pub or B&B for looking after the box and for encouraging customers to drop in a few pence.   So far this year nearly £2,000 has already been raised in little red boxes.
If you can think of somewhere which hasn't got a box but would like to help the team raise money please make contact: collectionboxes@buxtonmrt.org.uk   
Photos:  Top: A little red box enhances any counter-top!      Bottom: Fiona finds lifting bags of copper good training for climbing!