Chinley to John O'Groats in a Reliant Robin!
On Thursday 6th May, two Reliant Robins will leave Chinley to drive the 510 miles to John O'Groats, the most northern tip of Scotland.  Not known for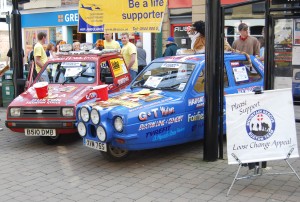 their GT style comfort or their long distance performance, the trip could be one to remember for the four men who will crew the cars all the way there and all the way back.  However in the process they will raise several thousand pounds in support of Buxton Mountain Rescue Team and the Derbyshire, Leicestershire & Rutland Air-ambulance, making the event particularly special for the two charities.
The idea belongs to Pete Corbert who up to last year was a successful Bangor racer but that stopped with an horrific crash at Buxton's High Edge Raceway.  Breaking fourteen bones and requiring 40 pints of blood, Peter thinks he is alive today simply because of the air-ambulance.  It whisked him to Wythenshaw Hospital in minutes compared to the hour or so that it would have taken a land ambulance.
To acknowldege his thanks for the service he has roped in four friends to make the sponsored drive to Scotland splitting all money raised equally between the air ambulance and Buxton MRT.   Whilst not a walker or climber, Pete wanted to be sure that a local charity also benefited from their efforts and knew all about mountain rescue from the Advertiser.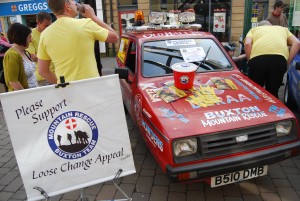 The group has already secured over £5,000 of commercial and public sponsorship and have been collecting in Chinley and Buxton but there is still time to give them some encouragement by contacting Pete on 07710 776 187 or by emailing 470petercorbett@tiscali.co.uk   Upcoming events include a Pig Roast and street collection at The Church Inn, Chelmorton and a Hot Pot Supper at The Old Hall in Chinley on May 2nd.
The rescue team extends a huge thank you to all those involved for their amazing effort and for considering BMRT as a beneficiary of the event.
Photos:  Fundraising in Spring Gardens, Buxton,  April 10th.  The red car with its go faster roof lights represents Buxton MRT.