Chatsworth Country Fair 2010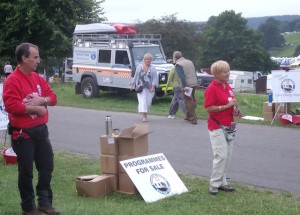 Early September is the start of a new training calendar for Buxton Mountain Rescue team. After the summer break, team members also catch up with each other over three days of fundraising duty at Chatsworth Country Fair. Operational members, trainees, the support team, spouses, friends, family and relations – all pitch in.
We are immensely grateful to the Chatsworth House Trust for its ongoing support. This popular large-scale event provides a fantastic opportunity for a small, volunteer unit to raise money for the provision of a trusted emergency service. You have our appreciation and thanks.
As much as we value this event for boosting our coffers, we value it equally as an opportunity to meet thousands of visitors, many of them kind and generous supporters. Chatsworth is a wonderful outdoor setting and it is good to meet people outwith an emergency situation.
With so many people staying on-site for the multi-day event, a good sense of community can, and does build up. If you stopped by our stall for a chat, dropped a donation into one of the teams collection baskets or bought a programme, we thank you also, for helping to make this event so worthwhile.
Here are a few snaps, on and off-duty…