By-election cancelled!
M Ps Tom Levitt, Charlotte Atkins and Angela Smith were all brought safely back to the Hope Valley following a four team rescue exercise on Sunday 19th July. 
Despite torrential rain seventy members of Buxton, Kinder, Edale and Glossop Mountain Rescue teams turned out for the search exercise which was concentrated on the southern edge of Kinder Scout. High Peak MP Tom Levitt enacted a heart attack whilst walking the edge path and his friends Charlotte and Angela had to go off to get assistance.  Unfortunately, Charlotte 'fell' whilst descending Grindsbrook, fracturing a leg.
The rescue teams rendezvoused at Shaw Wood Farm near Edale and search dogs were quickly dispatched to locate the injured parties.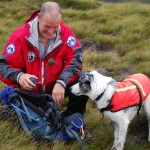 Edale and Glossop teams concentrated on Charlotte in Grindsbrook whilst Buxton and Kinder teams climbed to Grindslow Knoll in search of Tom Levitt.  Buxton trainee search dog Zak made the find and members of Kinder MRT swiftly moved in to offer first aid assistance.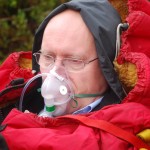 Tom was then loaded onto a mountain rescue stretcher and carried by members of both teams back to Edale village.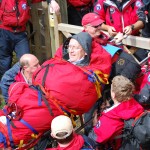 This was a very useful exercise for the rescue teams giving members an opportunity to meet and learn from each others techniques.  Support from local MPs on a number of national issues is greatly welcomed by mountain rescue and it is hoped that the event will highlight the work of the volunteer and totally charity funded teams.
The teams appreciate the co-operation of local land-owners for their permission to hold the exercise and for the time given by our three local MPs.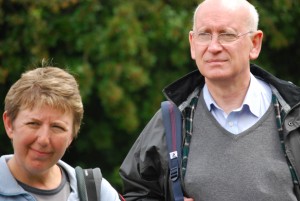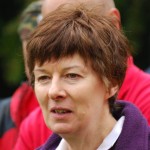 Photos from top:   Trainee search dog, Zak, with handler Nick Smith.   Tom on oxygen following his 'heart attack' on Kinder.   Buxton & Kinder teams pass Tom's stretcher over Archer Gate en-route. All three MPs at the debrief and available for the next debate.