Busman's holiday with Ogwen MRT
Buxton Deputy Team Leader, Mark Williams, had a bit of a busman's holiday with a recent trip to north Wales.  It was the end of a long day in late March when Mark, a professional mountain leader and manager of the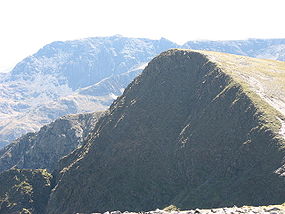 Hollowford Outdoor Centre at Castleton, was descending Foel Goch in the Ogwen Valley.  He was met by a man seeking help for his walking companion who had slipped and injured his side.   A 999 call had already been made and Ogwen MRT was assembling ready to help.  However, the casualty party had no map and had been unable to give much indication as to their location.   Mark examined and treated the casualty's injuries before using his team radio to speak directly to Ogwen Valley MRT Base.   The temperature was below freezing  so a Sea King Helicopter had already been scrambled and, with the new information and a precise casualty location, it was overhead within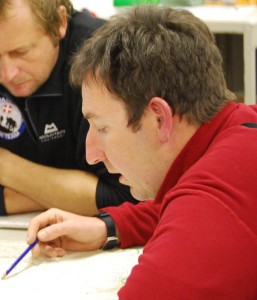 minutes.  Members of Ogwen MRT were just arriving on scene as the casualty was being winched into the helicopter before being flown to Bangor hospital.
It was a classic example of a simple slip turning into a serious drama compounded by the party's lack of equipment.   It also proved the worth of issuing team members with mountain rescue radios.  A programme of fundraising is already in motion to buy every operational member a personal radio but a £350 each it may take some time.
Photos:  Foel Goch, Snowdonia.    Bottom: Mark leading a classroom navigtion training session.