Busiest year on record
Being a team member is a full-time job in your spare time; that was the message delivered by operational team leader, Neil Carruthers, when he reported to the team annual general meeting that 2008 had been the busiest year on record for Buxton.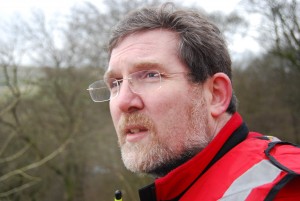 Buxton team members had been called-out by the police to a total of 96 incidents.  The full team or the daytime snatch squad had been requested 82 times whilst the search dog members had been involved with a further 14 incidents, some as far away as Pembrokeshire National Park.   The total time spent on operations during 2008 was 2,620.5 hours.   This figure does not include the time taken by members for cleaning and repacking the vehicles on their return to base.  123 people had been assisted, not all injured, but all pleased to see the team members appearing over the hill.  2 dogs and a couple of sheep also sent their thanks!
Lies, damn lies and statistics.  Don't go out on a Sunday in November between 12 and 3 o'clock!  According to regional statistics for 2008 that is the time you are most likely to have to call out mountain rescue.   In 2008, the seven teams of the Peak District Mountain Rescue Organisation between them attended 226 incidents and assisted 110 injured casualties.  The most common cause of injury was a fall or a slip and the most common injury was a broken ankle although 18% of casualties had suffered a back injury and 9% a head injury.
However, when you compare 226 incidents with the hundreds of thousands of people which take to the hills and dales of the Peak District during the year,  spending time outdoors not only does you good, it's pretty safe as well.   It would be even more safe if some of those involved in the 39 reported incidents of lost, overdue or benighted people had first learnt to read a map and had carried a torch.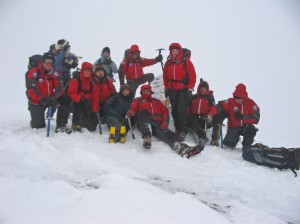 Returning to Buxton team Neil Carruthers went onto report that, for every hour spent on a call-out, members spent three hours attending classroom training or outdoor exercises.  An estimated additional 500 hours were spent on attending various management and administrative meetings at team level and at region and national level.   Members had also given up time to host several visiting groups to the team base at Dove Holes or had gone out to speak and deliver slide shows to other groups. 
Over twenty members had spent at least one weekend away from the area on various training events with other teams.   Another twenty members had spent at least a week away from the region on mountaineering courses or developing their winter skills in Scotland and abroad.
Additionally there were countless hundreds of hours dedicated to holding collection buckets and manning stalls at various fundraising events.
Neil expressed his thanks to all those who had contributed to another very successful year and for giving of their time so generously.  He also went on to send his thanks to the families of team members who spend so much time alone at home.  And finaly Neil thanked the unseen employers who permit their staff to drop tools and run when the call-out pagers sound off.   He said, "There are too many people to thank individually and I would be sure to miss someone.  However, I am sure that our 123 casualties will join me in saying a very big thank you to you all."
And all for the love of the job!
Photos:  Top.   Neil Carruthers, Operational Leader and Regional Incident Controller.         Below.  Team hone how to build a snowman skills in the Lake District.