Book profits go to team and region.
One year after publication of the book, "Mountain Res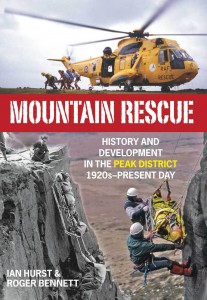 cue: history & development in the Peak District" the authors, Ian Hurst and Roger Bennett, have split the profits with equal donations to Buxton Mountain Rescue Team and to the Peak District Mountain Rescue Organisation.   
The book was never written with the intention of making a huge profit. It was simply a method of recording the history of local mountain rescue before it was lost for ever.   Many different people contributed material, so the only fair way to pay them back was to donate all the profits to benefit mountain rescue.   The authors said "We are very pleased that the book has proved so successful and we are proud to be able to donate £1,000 to the two organisations."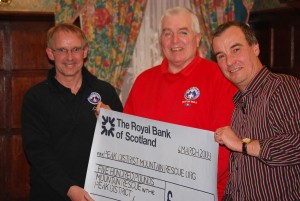 The book has received critical acclaim, Mountain Rescue magazine editor, Judy Whiteside, says "It's all here: incidents and accidents, newspaper clippings, black and white archive images, dogs, equipment, training, vehicles, macramé stretchers and some very dodgy bobble hats".
The well known local outdoor writer, Roly Smith, writing in his column, Peak Practise, in the Manchester Evening News said "Ian's and Roger's history of the service is a timely and long overdue reminder of the unstinting and often heroic work undertaken by the seven mountain rescue teams which operate within the national park".
Amazon Books has given the book a five star rating, saying, it's "engaging comprehensive, and entertaining".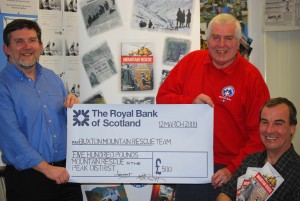 On Wednesday 4th March at the Royal Hotel at Hayfield Ian & Roger presented Neil Roden, Chairman of the Peak District Mountain Rescue Organisation, with a cheque for £500.  On the Thursday 12th March the authors presented another cheque for £500 to Buxton Team Leader, Neil Carruthers at the team's annual general meeting.
The book is now in its second print edition and sales remain boyant so it is hoped that similar presentations can be made again next year.
For your copy of the book at £12.99 including postage contact: treasurer@buxtonmrt.org.uk
Photos: Middle – Neil Roden (left) receives the cheque from Ian (centre) and Roger. Bottom – Neil Carruthers, Buxton Team Leader accepts the cheque at the team AGM.