Beware, Winter just wont go away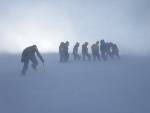 The novelty of winter conditions is beginning to wear off now and most of us are looking forward to Spring.  But, just when we think winter is slipping by, the Peak District is hit by another spell of bad weather.  
A spate of rescue incidents in the Peak District during the last few weeks has highlighted the need for continued vigilance of the prevailing weather conditions, and the need for good preparation for a day's walk on the moors.  In fact, the conditions on the hilltops in some areas are becoming worse even though the valleys may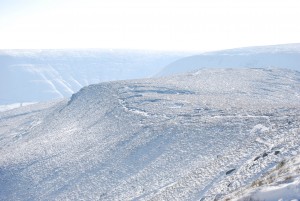 seem calm and inviting.
Heavy snowfall last weekend, and again this week, has fallen on top of the previous deep snows of December and January.  Whilst the older snow pack is well consolidated, the new snow is particularly unstable, especially on the steep sides of gullies on Bleaklow. There have already been reports of snow avalanches  which may easily triggered by the unwary walker. 
Popular footpaths are now becoming extremely slippery with compacted ice making walking potentially dangerous.  Wintery conditions still persist at higher levels and dense hill fog can be encountered at any time.
The message is simple: Don't be fooled by an apparent break in the weather.  Be prepared for winter conditions to continue for several weeks to come. Sub- zero temperatures, particularly at night are still common and there is a great risk of thick low cloud suddenly reducing visibility to a few feet at any time.  Wear and carry the appropriate clothing and equipment and ALWAYS CARRY a TORCH and WHISTLE.   Be sure you understand the snow conditions and appreciate the avalanche risk.
That said, the hills are there to be enjoyed by the well equipped and sensible enthusiast.  Get out there if conditions are suitable – but remember, there is always another day!