BAE Systems get their boots on
Over 150 employees of BAE Systems, the giant aeronautical co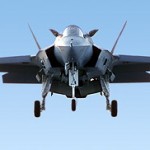 mpany, swapped their slide-rules and calculators on Saturday for a pair of walking boots in a long distance challenge walk to raise money for the company's national charity.
Buxton Mountain Rescue Team was asked to provide safety advice for this year's annual event being held at Tittesworth Reservoir near The Roaches in Staffordshire.   In return BAE will make a donation towards the rescue team's funds.

The walk was open to employees from sites all over the Country and started at 07.00 in the morning with the last competitors not returning until 7.00 in the evening.  There was a choice of a 24 mile hike or a 13 mile stroll but both went as far out as Shuttlingslow in Macclesfield Forest.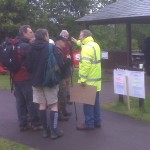 The winning team has the honour of hosting next year's event  so it will be down to Birmingham in 2010.
Pleased to report that all the entrants returned safely.
Photo:  Entrants receive a route and saftey brief before setting off for a day in showers and chilly winds.