Andy Kirkpatrick in Macclesfield
Against The Wall…..     Friday 12th March
The man who "makes Ray Mears look like Paris Hilton*" is giving his spectacular "Against The Wall" lecture at Macclesfield Rugby Club on Friday 12th March and all in aid of Buxton Mountain Rescue Team!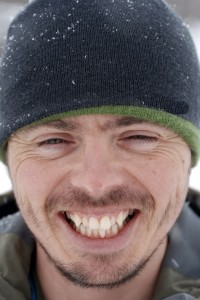 The US magazine Climbing once described Andy as a climber with a "strange penchant for the long, the cold and the difficult", with a reputation "for seeking out routes where the danger is real, and the return is questionable, pushing himself on some of the hardest walls and faces in the Alps and beyond, sometimes with partners and sometimes alone."
Andy's speciality is big wall climbing and winter expeditions, which involves pitting himself against a vertical climbs of over 1000 metres (that's two and a half world trade centres), often in temperatures as low as minus 30 degrees. Andy has scaled Yosemite's El Capitan – one of the hardest walls in America – over ten times, including two solo ascents. One of these ascents was a 12 day solo of the Reticent Wall, viewed at the time as perhaps the hardest climb of its type in the world.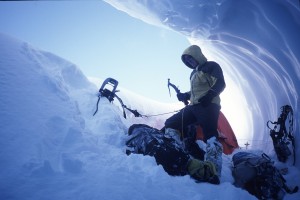 In 2002 he undertook one of the hardest climbs in Europe : a 15 day winter ascent of the West face of the Dru. This 1000 metre pillar pushed him and his partner to their limits and was featured in the award winning film 'Cold Haul'.
Andy has also taken part in three winter expeditions to Patagonia . The stories that Andy has brought back from these expeditions have become modern classics in the climbing world and have brought new meaning to the words 'epic' and 'cold'…
The Lecture Andy will be giving for us is about his experiences in Patagonia, on the Eiger and El Capitan .  Andy is a very entertaining lecturer and puts on a great show.
Friday 12th March, 7.30pm (doors open 7.00pm)                                   Macclesfield Rugby Union Football Club, Priory Lane , Macclesfield
Tickets £10, £6 concession

Tickets are available from Campfour or online at www.campfour.co.uk.
For concessions, we would ask that customers please contact us in advance of placing their order online.
Campfour contact details:
Address: Pickford Street , Macclesfield, Cheshire , SK11 6HB
Email: info@campfour.co.uk       Telephone: 01625 619 204
The Rescue Team extends a big thanks to Campfour of Macclesfield for organising this event.
Photos:  Copyright: Ian Parnell
* quote: Metro Magazine