A special service from Macclesfield students
A small group of students attending Macclesfield College has raised an amazing £680 for the rescue team.
The group of students, all with special learning needs, are participating in the Duke of Edinburgh Award Scheme and decided to raise money for a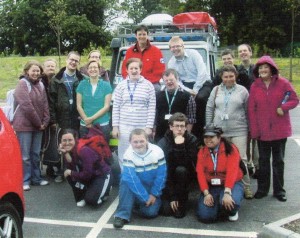 charity as part of the Service section of the award.  The students sometimes go walking in Macclesfield Forest and Teggs Nose and wanted to help those who might get injured in the area and the local mountain rescue team seemed an obvious choice.
Team member, Fiona Thompson, went to visit the group in Macclesfield and explained the work of the rescue team and demonstrated some of the equipment.  Fiona had an enthusiastic reception with the students eager to learn and get hands on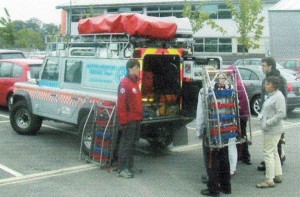 experience of the stretcher and dealing with an injured casualty.
To raise money the group had a special fundraising day in May with a fancy dress walk to South Park and sold quizzes and other items.  Star of the event was Andrew Clarke who raised £300 alone!  Andrew, who has problems with walking, walked the entire way to South Park without the aid of his wheelchair saying, "I want to earn my sponsor money properly."   And all this on top of £372 that the group raised for Help For Heroes in March!
The magnificent donation totalled £681 which will help the team continue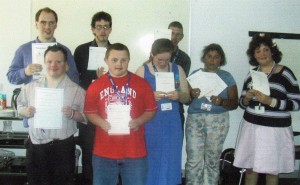 its work around the Peak District.  The team sends a mighty big thank-you to the group for all their efforts and wishes them success in achieving their Duke of Edinburgh's Awards.
Photos:  Top – The Duke of Edinburgh Award candidates with Into Work Year 2 students.    Middle – Fiona instructs on stretcher carrying.     Bottom – Award students proudly show their Bronze and Silver Award certificates.