40 Years of service to Mountain Rescue
Mountain Rescuer Eric Needham, received national recognition from Mountain Rescue England and Wales and the Peak District Mountain Rescue Organisation for 40 years voluntary service to mountain rescue. The long service certificates were awarded to Eric by the Chairman of Buxton Mountain Rescue Team, Richard Doran, on behalf of the two rescue organisations.
Eric has been involved in over 1000 call outs over the 40 years, and has been part of Buxton Mountain Rescue Team for 40 years and part of the leadership committee for over 20 years. He produced the team member's development guide in addition to setting the team up as a Charity
Eric said "Forty years ago I joined Buxton Mountain Rescue Team because I wanted to do something worthwhile. It has been an immensely positive and rewarding experience. Hundreds of people have been rescued and many lives saved but in the end it is not any one individual but a team effort that has achieved that. I am satisfied that I have played my part to the full and also to have helped the team develop into the first class organisation it is today. I am very proud to be a member of the mountain rescue family.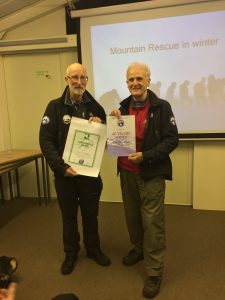 BMRT Chairman Richard Doran (left) presents 40 years Long Service Certificates to Eric Needham (right)