2010 appeal for new protective clothing
Buxton Mountain Rescue Team has launched a major fundraising appeal for 2010 to finance the purchase of new protective cloth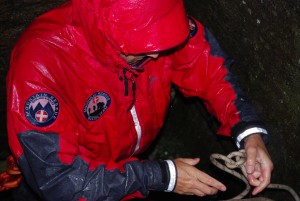 ing for all fifty of its operational volunteers.
When someone is in trouble in the wide open spaces of the Peak District our team members are prepared to turn out at anytime of day or night regardless of the weather. To protect their health and safety our operational rescue team members deserve the very b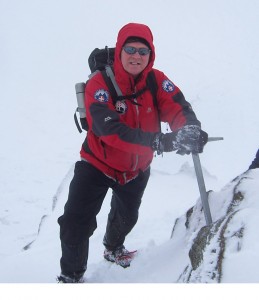 est in outer waterproof jackets & trousers. There can be no short cuts when it comes to quality and, with fifty qualified and trainee members to buy for, the price tag is likely to be a big one!
A spokesman for the Charity Trustees said "Team members personally give so much towards helping others, the least we can do is make sure they have top quality protection from the elements. Being a volunteer does not mean amatuer and our equipment must be as good as any of the professional services.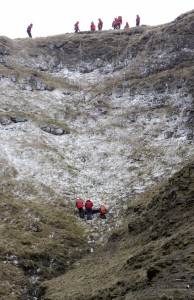 Perhaps even better – because when the weather really turns nasty you can bet it will be the volunteers who will be on the hill tops."
A quality mountain jacket retails around £300 with over-trousers about £150 per pair. That means an outlay of around £22,500 above the normal running costs for the year. The team has been setting some money aside for the project but it will still need to raise an extra £15,000 or more.
It is going to be a challenge and the team needs your help. Can you or your club sponsor a jacket or a pair of over-trousers? We would love to hear from anyone who can help and in return we'll send you a "Certificate of Appreciation" for your support.
If you have any ideas for sponsored events or want help in organising an event, please contact treasurer@buxtonmrt.org
Photos: 1 & 2 – Whatever the weather our members need to remain dry and warm on the inside. 3 – A rescue on Mam Tor near Castleton in winter conditions. The clothing has to be top quality.