150 years of joint service recognised
On Thursday 12th October Buxton Mountain Rescue Teams was proud to welcome Mike France, Chairman of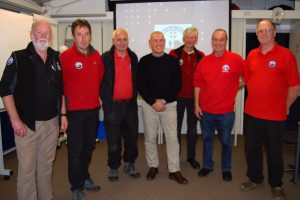 Mountain Rescue England & Wales, and David Coleman, President of The Peak District Mountain Rescue Organisation, to the team's base at Dove Holes to present Long Service Certificates to five team members.
First to receive a certificate was Andy Ashton for completing 22 years service before retiring earlier this year.  Next up were two members, Mark Williams and Adrian Walker, who had each fulfilled 25 years service and finally Dave Hannan and Roger Bennett who were still volunteering for the team after 40 years of responding to call-outs.
The team has a high turnover of new members in the first year or two as people realise just what a commitment joining a team really is.  However, if you are in it for ten years then you are probably in for life.   Being a team member is not just like joining a club or group with regular meeting times.  Call-outs can come at any time day of night and that state of anticipation and always being prepared gets into the blood like a drug.  Most of us probably need therapy.
Photo credit: BMRT.   Left to right; Mike France, Chair of M.R.E.W..  Mark Williams, 25 years.  Dave Hannan, 40 years.  David Coleman, President P.D.M.R.O..  Adrian Walker, 25 years.  Roger Bennett, 40 years and Andy Ashton 22 years.     Hair design by "Memories" of Dove Holes.