10 year old James Martin pulls on his boots again.
Not content with raising £500 for the team by walking the Coast to Coast in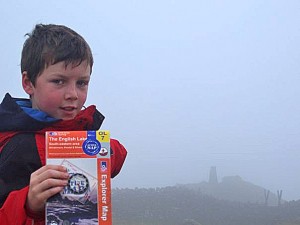 July last year, young James Martin is pushing Mum and brother Josh towards another long distance walk.
This time a mere 85 miles along the Dales Way from Ilkley in in the Yorkshire Dales National Park to Windermere in the Lake District.   The 4 1/2 day treck is planned for August and will be James's fourth long distance walk. 
But perhaps an even greater ambition is James's determination to complete all the 214 Wainwrights before his 11th birthday.  He's already got 90 of them under his belt and is heading to Helvelyn at half term to start ticking off the rest.  However, with the Lake District still dressed in full winter conditions his enthusiasm may be cooled.  But this young man already has the three highest peaks in the UK to his credit so he's no newcomer to mountaineering.  It's a tall order – and not just in metres – to be climbed.  James has just 11 months if he is to complete his dream goal and Mum and Josh are wishing he'd take up stamp collecting!  
We all wish the Martin family good luck with this fantastic venture but hope the goal doesn't mist over good sense.   Local advise about ice axe, crampons and avalanche risk is there for all to read and take heed.
James, with map & compass in hand and trig point in sight, is ready for a quick 124 summits in 11 months!  Keep rattling that tin!