Snow Assist Branside area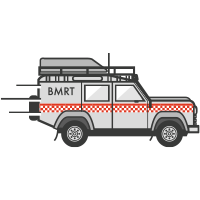 Call out for year:

21

Date:

18/03/18

Time:

11:56 am

Grid ref:

SK 04140 71106

Type of incident:

Non mountain (Other)

Other(1)

Team members involved:

2

Time taken:

4.13

Total man hours:

8.26
Incident report
The team was called to do a welfare check on an elderly farmer in the Brandside Area of Buxton.
Here's the report from Volunteer team member Carina.
'We were asked by our TL to check on a remote farm in the Brandside area. We got less than half a mile up the Leek Road when the deep snow drifts were too much even for the Team Land Rover. We tried the lower roads instead and were able to get within half a mile of the farm, having to do the remainder on foot. With gale force winds and thigh deep snow drifts it was an adventure. We arrived at the farm and delivered much needed fresh (unfrozen) water and chocolate bars.
Thankfully all was well at the farm, apart from this weekend being the one that the ewes thought would be a good time to lamb. Some lambs hadn't made it through the night and as we were helping feed the sheep we came across one struggling to give birth. It didn't look good but with a little help from us and despite the odds, the lamb survived and we moved it, and its mother into shelter. We helped feed and protect some of the other animals before making the return journey back to the Land Rover and the interesting drive back to the fire Station'