Ravensdale Crag, north of Cressbrook.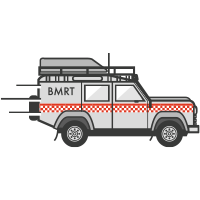 Call out for year:

62

Date:

31/08/20

Time:

12:17 pm

Grid ref:

SK 16629 73417

Type of incident:

Climber

Injured(1)

Team members involved:

15

Time taken:

3 hours 34 minutes

Total man hours:

48 hours
Incident report
The team was called away from fundraising in Castleton to help an injured climber on Ravensdale Crag, near Cressbrook. An experienced climber was leading a route when he took a fall. He landed heavily on the ground some 15 feet below, sustaining lower back injuries.
Team members were assisted at the casualty's location by fellow climbers. Due to the nature of the injuries and the difficult evacuation options, we requested a helicopter evacuation as the best and safest option for the casualty extraction. A request was put in through our communication channels for a Maritime and Coastguard AgencySikorsky S-92 helicopter, who would be able to winch the casualty from the site. Rescue helicopter 936 based at Caernarfon Airport, was requested and was quickly in the air and en route to our location.
As team members arrived after a very steep and difficult climb up to the crag, the climber was assessed by a team Casualty Carer and pain relief was provided. To compound the issue, whilst this call was being dealt with a second call out for help was also received by the Team; further details on incident 63.
The team's stretcher was prepared and, with the help of the fellow climbers, the casualty was carefully placed on it. At this time, East Midlands Ambulance Service paramedics arrived and took over the care of the casualty. Shortly afterwards, the helicopter arrived over the dale and was was guided to the location with a smoke flare.
The casualty was then moved to a small clearing in amongst the heavily tree'd dale side for the winchman to be able to extract the casualty up into the helicopter for the transfer the Northern General Hospital in Sheffield.
The team returned back down the steep slope to Mobile 1 to decontaminate the equipment, before 2 team members drove across to Sheffield Hospital to collect kit that was used for the helicopter transfer.
After returning to base and replenishing used kit, and further decontamination, the final team members locked up the base and left for home at around 18:45; it had been a long day for the volunteer mountain rescue team members.
We would like to wish the climber a full and speedy recovery, and thank all the climbers who helped the team with this very difficult extraction, and the care the provided by the EMAS paramedics and the crew of Rescue 936; a great example of a multi agency approach to casualty care..