Grindsbrook, Edale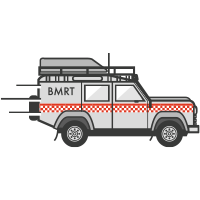 Call out for year:

083

Date:

19/09/23

Time:

9:00 am

Grid ref:

SK 10580 87490

Type of incident:

Walker

Injured(1)

Team members involved:

26

Time taken:

7 Hours

Total man hours:

182 Hours
Incident report
Along with a fantastic support team, many operational team members are engaged in 'behind the scenes' team activities, which help the team to run smoothly. Tuesday evening was no exception. The media team was on a Zoom call discussing exciting plans for next year when the team leader informed operational team members that a call-out had just come through. This gave members brief advance notice before the call-out text message alert was received.
The call was made by a small group of equipped walkers who were at the very top of Grindsbrook Clough, close to the edge path.
They were out enjoying a walk on a short break to the Peak District National Park, when one of the walkers unfortunately slipped, landed in the stream, injuring a knee and was unable to weight-bear.
The team was rapidly deployed from Edale taking the route over Grindslow Knoll to the casualty.
Upon arrival, casualty care was provided by team members. As it had taken some time for team members to walk up the hill carrying all the heavy equipment to reach the location, the casualty was feeling the effects of the cold by the time we arrived so was wrapped in a fleecy casualty bag and covered with a box tent to warm up.
Due to the location, it was deemed necessary that a rope rescue system would be required to haul the casualty on the mountain rescue stretcher up the steep heathery, muddy embankment to the path.
The casualty's loyal dog, Luna was timid and nervous, and did not want to leave her owner's side so was given lots of encouragement and fuss to continue.
Team members then stretchered the casualty down the steep rocky path to Edale via an extraction route bypassing the summit of Grindslow Knoll.
Upon arrival in the village, the casualty was re-assessed and then transported to their accommodation in Mobile 2.
We would like to wish the casualty a speedy recovery and thank our team members for their dedication.
Team members were then stood down and headed back home for a short night's sleep at around 02:00 this morning.