Giants Hole, west of Castleton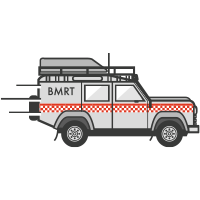 Call out for year:

93

Date:

8/12/20

Time:

9:55 pm

Grid ref:

SK 11600 82500

Type of incident:

Non mountain (Cave)

Medical(1)

Team members involved:

23

Time taken:

20 minutes and a few over team members over 4 hours

Total man hours:

26 hours
Incident report
Just before 10 pm, the team's key contact received a call via the Peak District Mountain Rescue Organisation's duty controller, who had taken a call from Derbyshire Constabulary to help a group near to the Giant's Hole cave near Sparrowpit.
A full team call out was instigated with a small number of team members heading to Dove Base and the fire station to collect the response vehicles. A deputy team leader managed to establish contact with the informant, who indicated that the casualties were actually in the cave! With this information, the call was then passed to Derbyshire Cave Rescue Organisation (DCRO) and the team was stood down.
Buxton Mountain Rescue deputy leader then received a further call from the informant, who suggested that one of the members of the caving group, deep inside the cave, was suffering from stage 3 hypothermia. As the deputy was at the base with three other team members, who were just about to head home, it was agreed that they attend and ahead of Derbyshire Cave Rescue to provide some emergency food and warmth using a casualty bag.
When the section arrived on scene, two members were assisted by a member of the caving party, who then managed to pass the food and casualty bag to the group of cavers at the bottom of an abseil within the cave. As members of Derbyshire Cave Rescue Organisation arrived, they set up a rope system to extract the four cavers including the hypothermic casualty.
Buxton team members then assisted in coordinating the arrival of East Midlands Ambulance Service, the HART team and walked the cavers to the control vehicle, and the comfort and warmth of their cars. The Buxton Mountain Rescue paramedic and Derbyshire Cave Rescue Organisation doctor were in attendance to provide welfare checks and hand over the hypothermic casualty to the ambulance paramedics. It was then time to head back to Dove Base, decontaminate the equipment, whilst Derbyshire Cave Rescue had the unenviable job of drying their rope systems at their adjacent base to the teams at the fire station.
By the time team members headed home it was after 2 am, to grab a few hours sleep before work.
This is another example of a quick multi-agency response where volunteer rescue services are working closely together with our full-time emergency colleagues. We wish all the cavers well and hope they managed to grab a warm shower when they arrived back home.