Dog Rescue Eldon Quarry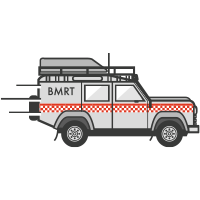 Call out for year:

24

Date:

22/03/18

Time:

1:39 pm

Grid ref:

SK 07693 78621

Type of incident:

Non mountain (Cave)

(1)

Team members involved:

10

Time taken:

1.23

Total man hours:

12.3
Incident report
A call went out for 10 members, along with cave rescue to help with a dog rescue at Eldon Quarry. When team members arrived on site information was passed that a 4 month old Golden Retriever puppy had strayed from the path on Eldon Hill and fell through the snow into a 20ft deep collapsed lead mine.
Team members setup a rope system to lower our Derbyshire cave rescue volunteer down the mine shaft. The puppy was bribed with dog treats to get in to a rope bag, she was then hauled to the surface and back into the day light.
After much fussing by team members the puppy was rewarded with yet more treats, a towel dry and plenty of fuss, she walked away seemingly unharmed for a check up.
The team then remembered that the team member we sent underground probably wanted hauling out of the mine also.
Photo Kieren appearing from the hole wondering where his treat is!