Chrome Hill, south of Buxton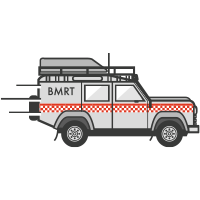 Call out for year:

1

Date:

1/01/21

Time:

12:19 pm

Grid ref:

SK 07227 68028

Type of incident:

Walker

Injured(1)

Team members involved:

32

Time taken:

4 hours 11 minutes

Total man hours:

120 hours
Incident report
While walking up Chrome Hill with their dog, a couple found themselves in an awkward spot, where a combination of slippery White Peak mud, steep ground, a recurring knee injury and a dollop of snow and ice, meant that further progress was impossible for one of the party.
The 999 call worked its way through the system to the Mountain Rescue Duty Controller, who called out Buxton MRT. Team members were quickly on scene and began to effect the rescue.
Whilst a rope system was set up to lower a stretcher to the casualty, some team members descended to make the first medical assessment. One of the team members was able to bring the dog and uninjured walker to the top of the ridge and the decision was made to slide the casualty down the hill on the stretcher. Demonstrating the loyalty our canine friends have with their owners, the dog was at first reluctant to leave the casualty, and had to be coaxed into a position of safety for both her and those in the firing line of the rocks she was dislodging. Poor visibility, wind and the PPE masks were making communications difficult. It was agreed that providing social distancing could be maintained that team members could remove the PPE masks to ensure communications could be effective, and the safety of team members and the casualties could be ensured.
Team members wearing micro-spikes climbed down the steep ground to the casualty party and were able to help with the awkward transfer of the casualty onto the stretcher and secure her for the stretcher descent.
With the back rope securing the stretcher party, the sledging down the slope was relatively straight-forward, and very soon the casualty was in the warmth of one of our vehicles to await the arrival of our colleagues from East Midlands Ambulance Service.
We wish the casualty a speedy recovery and return to the Peak District National Park.
As ever with rescues from this popular hill, we are also very grateful for the continued support of the landowner for allowing us to park on his land during the rescue. The mixture of mud and snow during the rescue meant the team vehicles and equipment were in a sorry state when they returned to base, but we were delighted with the success of our new system of calling for the help of support team members and trainees as we stood down.
With the assistance of the support group, the preparation of the vehicles for the next callout was done in double-quick time.