Water Cum Jolly, MIllers Dale nr Cressbrook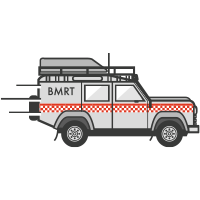 Call out for year:

45

Date:

19/07/17

Time:

2:15 pm

Grid ref:

SK 17 72

Type of incident:

Climber

Injured(1)

Team members involved:

Time taken:

2.5 hours

Total man hours:
Incident report
At about 2.15pm on Wednesday 19th July, Buxton Mountain Rescue Team was called-out following reports of a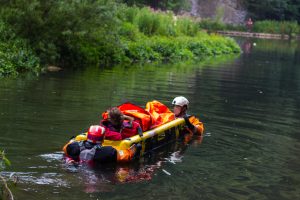 fallen climber on Moat Buttress at Water-cum-Jolly.
Rendezvousing at Millers Dale Station, team vehicles ferried team members the one and a half miles down the Monsal Trail to a location above the incident scene.  Access to the incident involved a steep decent over some tricky terrain before arriving at a flat apron of ground beside the River Wye and below an imposing limestone buttress.
The male rock climber, from Loughborough, was found sitting at the base of the buttress in considerable pain.  He informed team medics that he had been at the top of a climb, called Moat Race (an 8 metre 6c+ route), and was about to place his final piece of protection when he suddenly experienced excruciating pain in his lower back.  Not wanting to risk falling, he had pushed through the pain to place his final runner and thus allowing his climbing partner to safely lower him to the ground.
The casualty was examined by team medics who came to the working diagnosis that he was suffering from a severe muscular spasm in the lumber region of his back.  He was given pain relief and placed into a vacuum back splint.
Due to the difficult nature of the access to the location, the team called for the assistance of a water rescue team from Derbyshire Fire & Rescue Service.  This would enable evacuation by river down to Cressbrook Mill.  A Fire Service crew duly arrived and the casualty was loaded onto an inflatable raft and floated off down stream to where the ambulance was waiting to convey him to hospital for further investigation.
A spokesman for Buxton Mountain Rescue Team said, "This was a slick operation and a good example of team work and inter agency working.  It wouldn't have worked half as well if it wasn't for the time the team spends training and exercising with the fire and ambulance services.
Photo credit: Contributed.   The casualty floats comfortably down the river towards the waiting ambulance guided by members of the water rescue team from Derbyshire Fire & Rescue Service.