Topley Pike Quarry
Call out for year:

58

Date:

12/08/16

Time:

5:12 pm

Grid ref:

Type of incident:

()

Team members involved:

Time taken:

Total man hours:
Incident report
Buxton Mountain Rescue Team called by East Midlands Ambulance Service when two casualties were reported on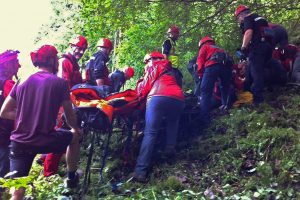 steep ground above the quarry workings at Topley Pike Quarry.
The two people, from Oldham, were totally off any recognised route and access to the casualty site was extremely difficult.  On arrival the more serious casualty, a young lady, was discovered to have sustained a head injury and a shoulder injury due to a falling rock.  The second casualty had suffered some minor injuries but was able to walk down with assistance.
The lady was treated on scene by team members and an East Midlands Paramedic Officer.  She was then evacuated  on a stretcher over the difficult and steep ground requiring hand over hand techniques and the use of back ropes. On one section the stretcher was sledged down a steep slope.
An East Midlands Ambulance was waiting at the quarry entrance to convey the lady to hospital.
Photo credit:  BMRT   An awkward position to load a casualty followed by a difficult descent.