Ravensdale
Call out for year:

34

Date:

10/06/17

Time:

4:20 pm

Grid ref:

SK

Type of incident:

Walker

Crag-fast(6)

Team members involved:

18

Time taken:

2

Total man hours:

36
Incident report
Buxton Mountain Rescue Team called in the late afternoon of Saturday 10th June following a report to police of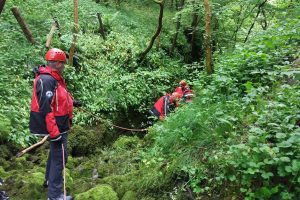 three young people trapped beneath a dry waterfall in Ravensdale near Cressbrook.
Eighteen team members responded quickly to the call rendezvousing at the tiny hamlet of Ravensdale Cottages.  The Duke of Edinburgh's Award silver expedition party of seven from an Oldham school were walking from Eyam towards Haddon Hall when the incident occurred. They should have followed the path when it left the dried-up limestone river but instead they carried on along the riverbed until it disappeared down a steep gully.   Three of the party descended the four metre dry waterfall but, when they realised their mistake, found that they could not climb back out again.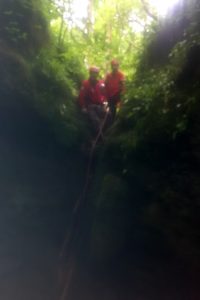 Team members quickly established that none of the party were in any immediate danger and one at a time guided the students safely around the craggy dry waterfall.  The team then concentrated on hauling their rucksacks out of the steep sided gully.  All the group were soon safe if a little wet and, following a check-over, were transported by school staff to their next campsite.
Moral:  Mountaineering advice recommends never to follow a watercourse off a hillside unless you are very familiar with the local area.   When looking down a river/stream you can never be sure that you can see all the potentially dangerous steep gullies and sudden drops which are often hidden by undergrowth and trees.
Photo credit:  BMRT   Top of the hidden gully and a view from the bottom as the rucksacks are hauled out.