Hope Valley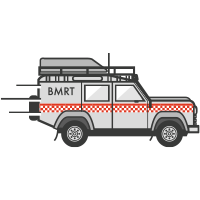 Call out for year:

36

Date:

25/07/12

Time:

1:21 pm

Grid ref:

SK222 815

Type of incident:

Walker

Injured(1)

Team members involved:

6

Time taken:

2 hrs

Total man hours:

12 hrs
Incident report
A joint Buxton/Edale snatch squad was called this afternoon to assist the ambulance service with an incident alongside the River Derwent in the Hope Valley between Hathersage and Shatton.
The casualty, a 72 year old woman from the Chesterfield area, had been walking along the riverside path when she slipped and fell, tumbling c.10 feet down a steep section of riverbank onto tree roots. She sustained injuries to her shoulder and back. After treatment on site by Edale team and air ambulance paramedics, she was put on a spinal board, then a vaccum mattress to stablise her, and finally onto a mountain rescue stretcher. The stretcher was passed hand over hand by rescuers back up the steep bank to the path and carried a short distance to the waiting Yorkshire Air Ambulance.
The air ambulance conveyed her the short distance to Leadmill on the outskirts of Hathersage, where she was transferred to a land ambulance and thence by road to Sheffield Northern General Hospital for further treatment.
A team spokesman said "Access to the site via the stepping stones across the River Derwent was an interesting exercise with all the equipment required, including a spinal board, stretcher and medical bags. Some rescue personnel were standing waist deep in the river supporting their colleagues carrying the equipment".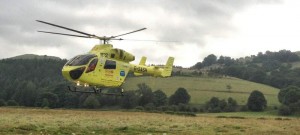 Photo credit: Jon Kidd