Kinder, Southern Edge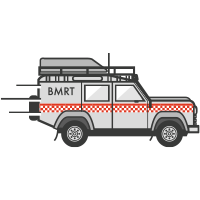 Call out for year:

18

Date:

4/03/10

Time:

7:45 pm

Grid ref:

SK 1064 8769

Type of incident:

Walker

Injured(1)

Team members involved:

23

Time taken:

5 hours

Total man hours:

115
Incident report
As team members were assembling for the usual Thursday night training exercise, a call from the police suddenly gave the evening a sense of reality. 
A mobile phone call had been received from a lone female walker on Kinder Scout stating that she had injured her ankle and could not proceed. She was unsure of her exact position but early presumptions indicated she was probably at the top of Crowden Brook.  Buxton and Edale teams were called simultaneously to rendezvous at Tipps car park, Upper Booth. With Buxton team members already dressed for the hill the response was impressive and had their first section ascending Crowden Brook with fifteen minutes of the call. 
Not being entirely sure of the woman's position, Edale team was tasked to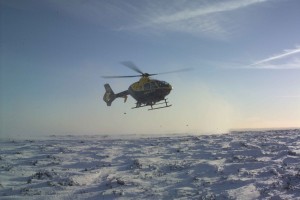 check Grindsbrook. Three search dogs were also called.  Derbyshire police helicopter was deployed, and flew over the area for nearly an hour using thermal imaging equipment. The lady still could not be located. After an hour, team members were up onto the moor and a search of the entire southern edge path was started. As a belt and braces back-up, Kinder team was called to explore the Kinder Downfall area, along with Glossop team who were tasked to start up from the Snake Road and climb Fairbrook.
Just as the police helicopter had left the area to return to its base for fuel, and as Kinder and Glossop members were pulling on their boots, faint cries for help were heard by a Buxton section sweeping the edge towards Grindsbrook. An Edale section was able to pick up on the indication and moved to locate the casualty at the top of the true left gully. 
With a suspected fractured ankle it was obvious that the casualty would need to be carried from the hillside and extra team members started to climb Grindsbrook with the necessary kit. The police helicopter was asked to return and evacuate the lady, but they could not confirm that helicopter would be able to land on the moor in the dark.  After around forty minutes the stretcher party just arrived at the scene in time to see the police helicopter land and load the casualty for evacuation to Derby.  With the heavy kit not required it then had to be carried back down the valley.   
At the time of this incident the weather was wonderfully clear but temperatures were dipping to minus four. Had the lady not been found, she could well have perished during the night through hypothermia. Peak District Mountain Rescue again urges everyone to respect the hills and carry the spare emergency equipment that might just save their life. Extra insulation in case of an enforced overnight stop, a torch, and a whistle are absolutely essential throughout the winter periods.
Photo: Library image of Derbyshire Police Helicopter operating in daylight.